Basic Electronic/Logic/Electric/Communication Trainer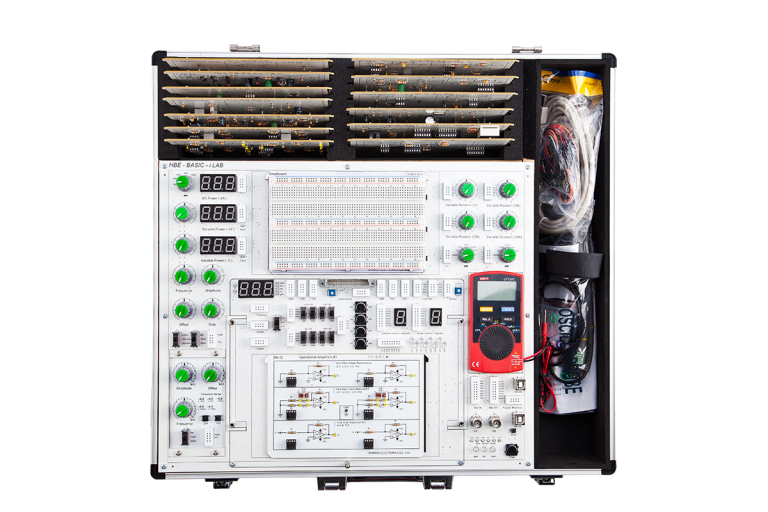 Built-in basic measuring equipment (DMM, F/G, OSC and DAQ).
Available to study a electric, elctronic, communications and digital logic circuit themes with one platform.
Supply various experiment themes.
Training a skills of troubleshooting.
Design to protect from misuse using power protection circuit.
Set up a module based verified circuit.
Available application experiment with built-in bread board.
HBE-Basic-iLab is designed that student study various basic themes like Electronic, Digital Logic, Communication and electric. Various basic test instruments are built-in (DMM/OSC/FG/DAQ).
It consists of various input and output devices that can be configured to experiment such as oscilloscope, a waveform generator and multimeter.
You can do all the laboratory exercises intuitively configure the basic electrical and electronic circuit modules into practice.
You can use in combination with digital Logic circuit, analog and digital communications.
You can use the output device such as Speaker, FND, LED and configure a circuit of Breadboard with AC Power, Variable DC Power, Fixed Power, Variable Resistor and Analog, Digital switch.
Provides PC program and oscilloscope of 2 channels(1ch up to 60Msps).
Provides a waveform generator can output Sine, Triangle and Square wave of 100KHz/10VIVp-p) base.
Provides the Breadboard that is consisted of 3 terminal strip and 4 Bus strip.
Built in power down circuitry to protect devices and shortage state.
The DAQ device is builted that can use Signal for Monitoring and for output of 8 bit an easy-to-use digital logic circuit modules.