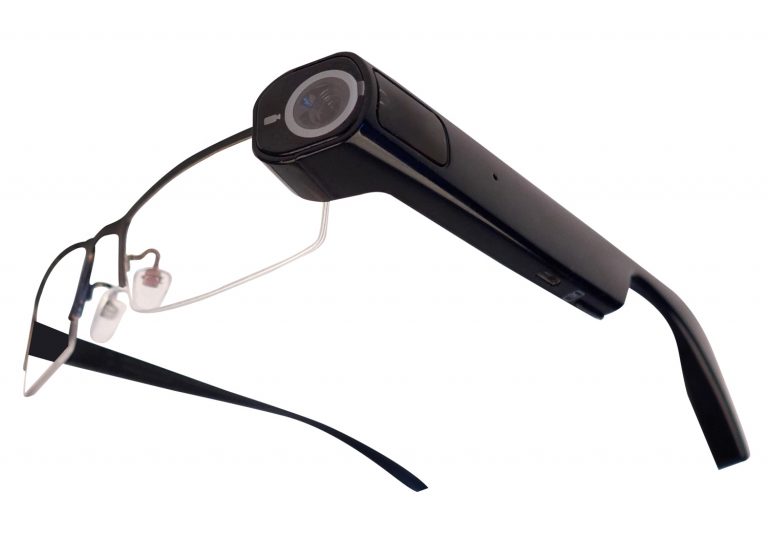 SPARK AR STUDIO is an AR development tool that comes with camera glasses. By linking the Android app and receiving images taken from camera glasses and smartphones, and enabling AR content, anyone can easily experience and implement creative virtual reality.
SPARK AR STUDIO is available for Windows or Macintosh to help anyone implement AR (Augmented Reality) easily.
In this tutorial, you will learn how to develop AR contents through various practical exercises and how to share them with your friends on Facebook or Instagram. You can also learn how to implement VR in a fun way by recognizing a face with camera glasses, changing face shape, putting on makeup, or changing it into a funny look, and superimposing virtual reality objects in the real space.
Learn how to directly implement AR, which superimposes virtual objects on the real world.

Learn how to implement AR contents through various basic examples, and learn how to implement your own AR examples through application examples.

Learn how to share the AR contents implemented on Facebook, Instagram and SNS.

Learn how to implement AR with animation or interactive features using JavaScript.

SPARK AR STUDIO is an SDK that doesn't require markers. It recognizes and tracks faces, hands and planes to implement AR.

AR contents produced by SPARK AR STUDIO can be used on all Android and iOS smartphones.

Learn how to combine SPARK AR STUDIO with camera glasses to implement AR for SNS contents.

In conjunction with the Android app, you can easily receive images taken from the camera glasses to implement AR contents.

SPARK AR STUDIO is expected to have more applications in the future. It is expected to be used in various fields such as education, healthcare, shopping, marketing, and games.

AR is also expected to play a big role in advertising on social media.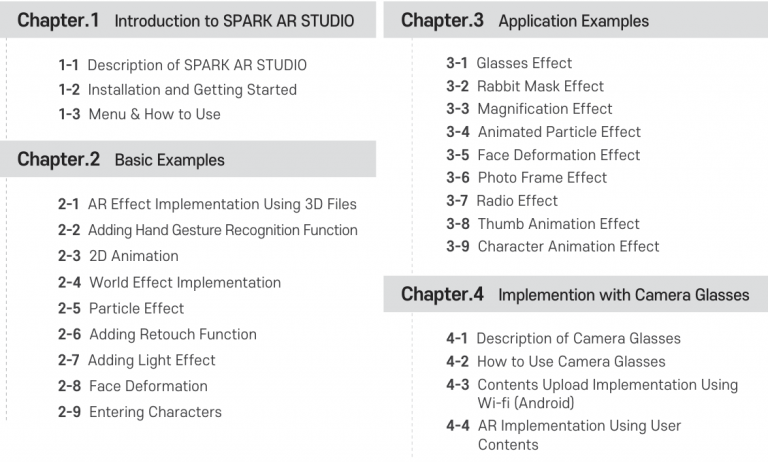 Configuration and Name of Each Part