You can learn from the basic theory of AI (Artificial Intelligence) to algorithms using TensorFlow for machine learning and deep learning. And with Nvidia's high-performance GPUs, you can experience high levels of image processing and machine learning.
With this product, you can experience from the basic theory for machine learning to the algorithm for implementation.
You can learn about deep learning which is the basis of machine learning.
Provides services for machine learning and deep learning using TensorFlow for high performance numerical computation.
Provides practical exercises for Neural Network.
It is able to experience high levels of computation speed thorugh high-performance GPU.
Provides real-time image processing service using the attached camera.
The robot driver module enables to learn technologies regarding DC motor required for robot design, and omni-wheel control to be moved in all directions.
It is possible to acquire the technology using the ultrasonic sensor and the infrared distance sensor (PSD), and able to learn various things such as object detection and obstacle recognition by intelligent robot application.
By adopting Arduino, an open electronic control platform, the robot driver module minimizes the specificity required for hardware control, it is possible to generalize the motor control required for operation definition and the method of acquiring status information from the sensors.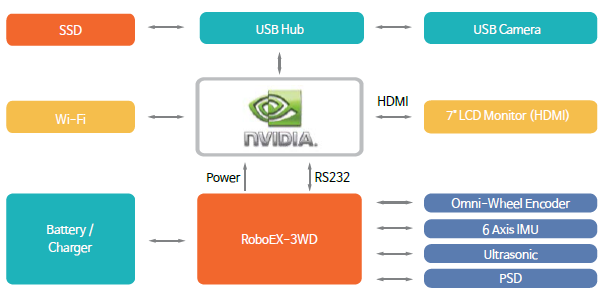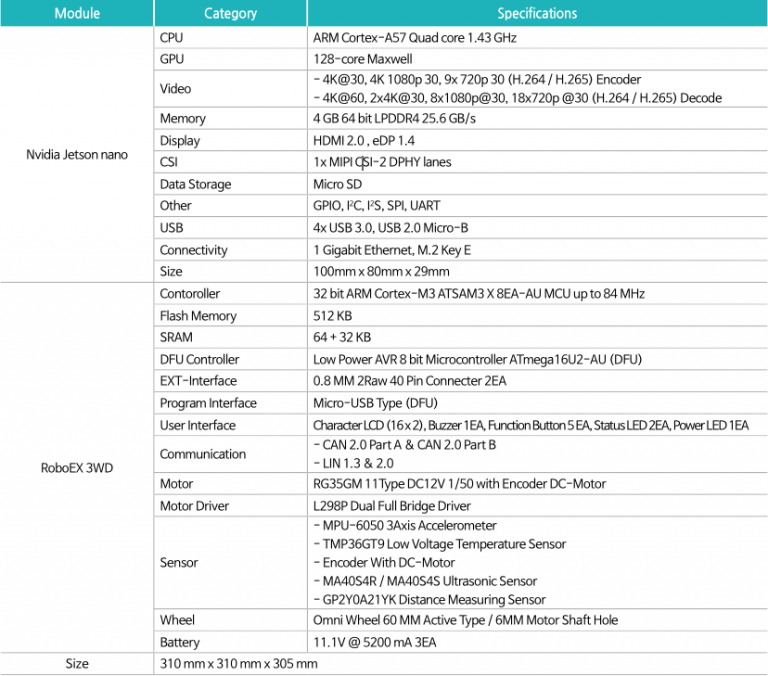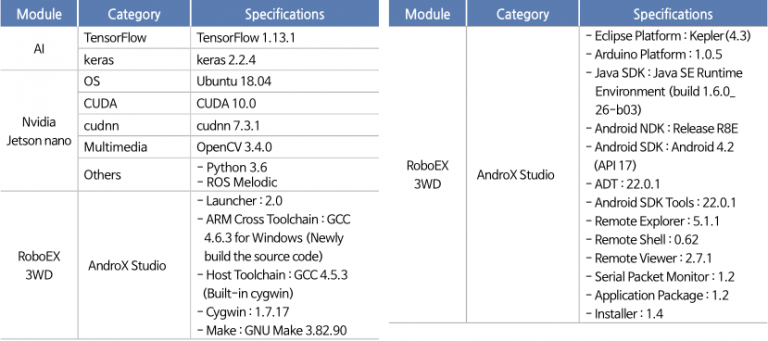 1. Deep Learning Using AI Nvidia RoboEX nano
• AI / Machine Learning / Deep Learning
• Introduction to the Device
• Deep Learning Using TensorFlow
• Image Processing
2. Robot Control with AI Nvidia RoboEX
• RoboEX 3WD
• Robot OS
• Connecting RoboEX 3WD and Jetson Board
• Moving & Tracking