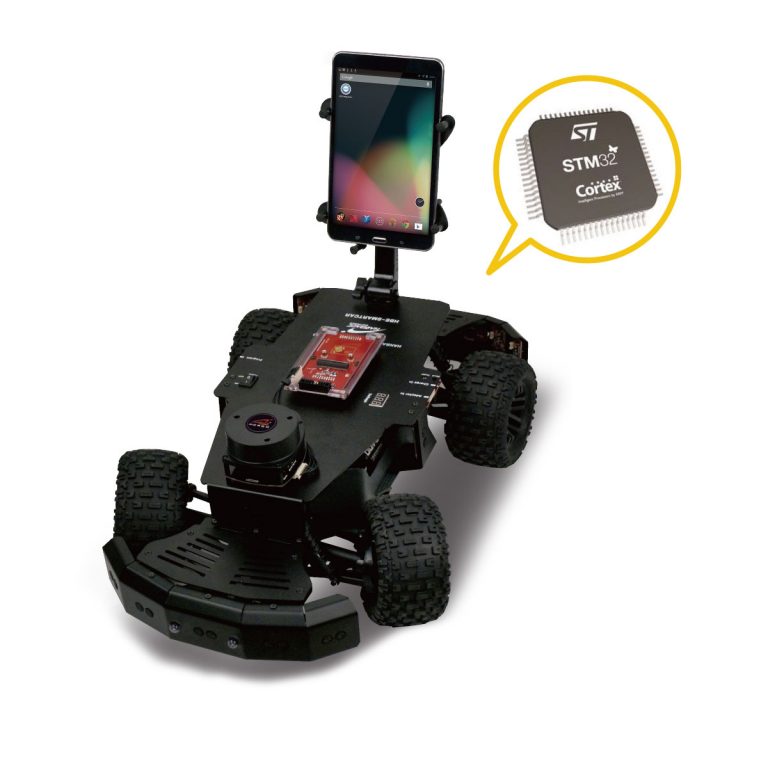 Supports about 20 OSEK RTOS examples and programs
Supports priority-based real-time scheduling
Supports CAN network technology and Cortex-M4 core for internal communication of vehicles
LiDAR sensor for self-driving
Robot middleware ROS (Robot Operating System) training available
Simultaneous localization and mapping (SLAM) training available
Multi-ultrasonic sensor for object detection
Speed measurement using radar sensor
Line tracing using infrared sensor
Operating control using DC encoder motor
Steering control using servo motor
Intelligence control using accelerometer and gyroscope sensor
Instruction on using real-time operating system for automobile through practical exercises
Development tool for OS setting and utilization
Supports standard APIs for SW developers to easily develop applications
LiDAR Steering SmartCar OSEK RTOS was created to support the research of ICT convergence service using intelligent mobile robot based on OSEK RTOS and the training of high value human resources. With LiDAR Sensor and Steering System, you can learn LiDAR sensor and other various sensors as well as self-driving, ROS (robot operating system) and SLAM (Simultaneous localization and mapping). Designed to enable smart phone and PC to be used as robots' brains for high-performance vision processing, it combines data from acceleration, magnetic, and gyroscope sensors with vision, including 12 ultrasonic sensors and 8 infrared sensors. It can be used to develop innovative autonomous navigation algorithms and application services for mobile robots.
Based on OSEK RTOS, 32 bit micro-controller is applied and about 20 practical exercise and programs are provided.
Priority-based real-time scheduling function is included.
Supports CAN network technology and Cortex-M4 core for internal communication of vehicles.
Automobile robot with LiDAR sensor that includes collision avoidance exercise and location tracking exercise to learn about ROS and SLAM.
By supporting the ADK-based electronic device development environment, the Google Smart Device Peripheral Design Platform, you can quickly and easily develop applications that work with Smart Devices with the Google Android platform.
With 12 ultrasonic sensors and 8 infrared sensors, obstacles can be avoided and missions can be performed on a given route.
DC geared motor has built-in encoder, so it can detect the operation status of motor and can calculate rotation direction and speed.
Accurate steering control using servo motor is possible and it is able to change the rotation axis of front wheel for forward direction.
Built-in Bluetooth communication module enables remote control based on SPP profile through PC, notebook, smartphone, tablet etc. that support Bluetooth communication.
Smart phones and tablets can be used as the brain of mobile robots, enabling the implementation of mobile robot-based ICT convergence services using high-performance processors and Wi-Fi communication environments.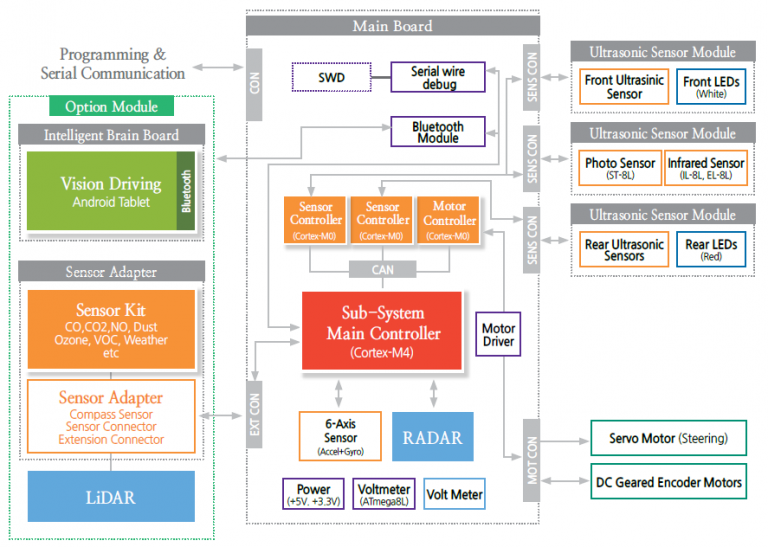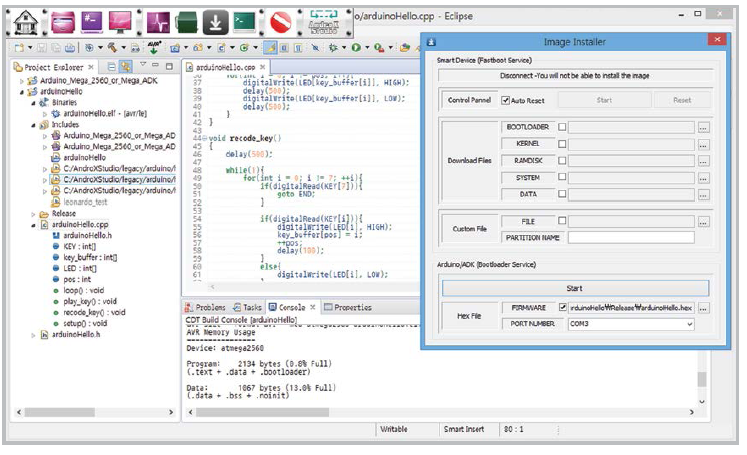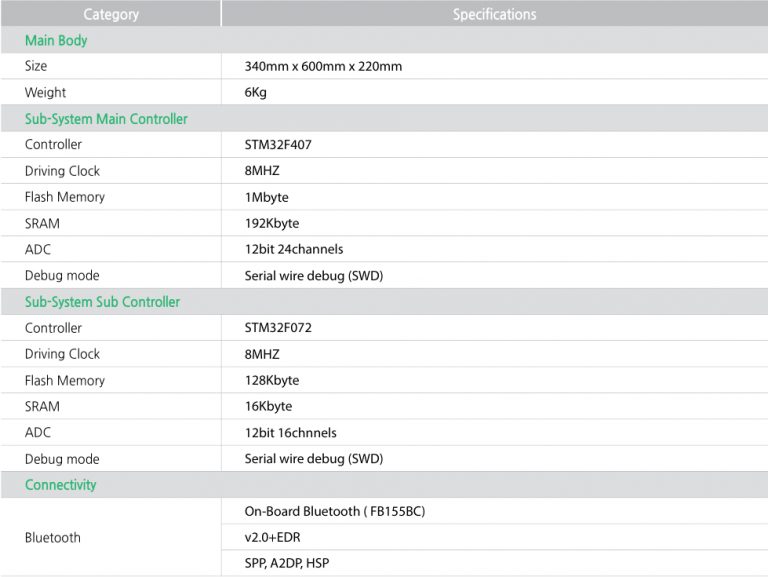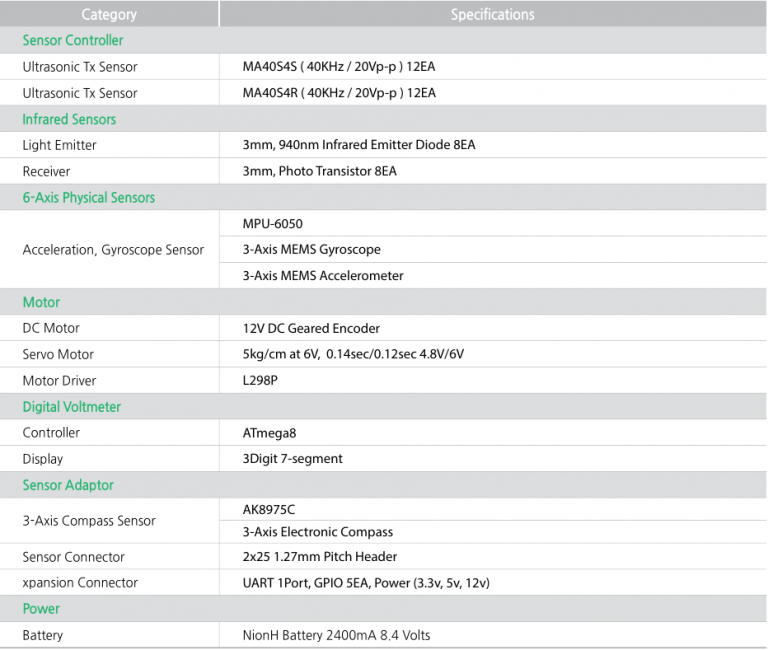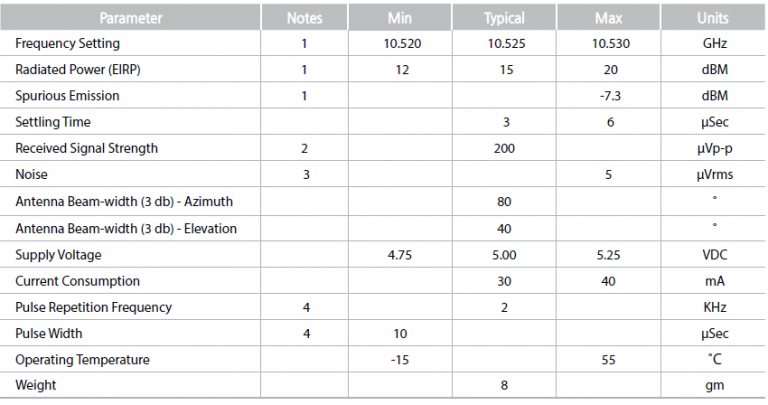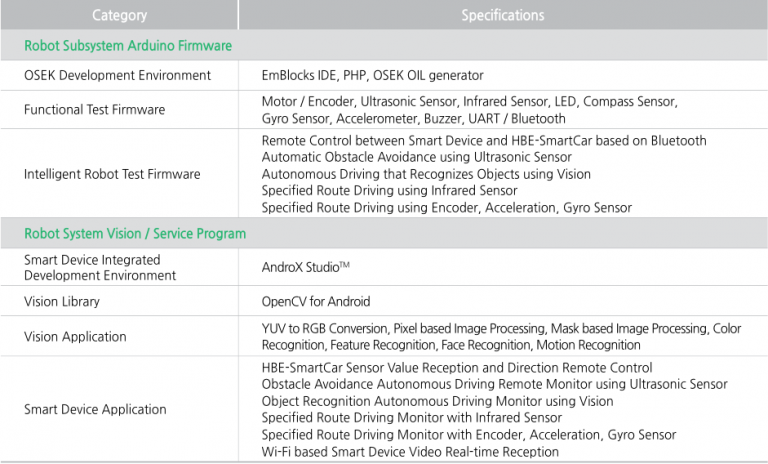 OSEK RTOS provides a standard software architecture for a variety of electronic control devices in automobiles.
Developed as a standard interface, application development is easy, software is portable and scalable. This saves development costs and time. In addition, there is a standard that considers the processing of system malfunctions, so that software stability can be achieved.
Robot Operating System (ROS) is robotics middleware (i.e. collection of software frameworks for robot software development). It provides services designed for heterogeneous computer cluster such as hardware abstraction, low-level device control, implementation of commonly used functionality, message-passing between processes, and package management.
Simultaneous Localization and Mapping (SLAM) is a concept used in robotics and so on. It is a technology that the mobile robot moves around in arbitrary space, searches for the surrounding area, and maps the space and estimates the current position.