For Photovoltaic Generation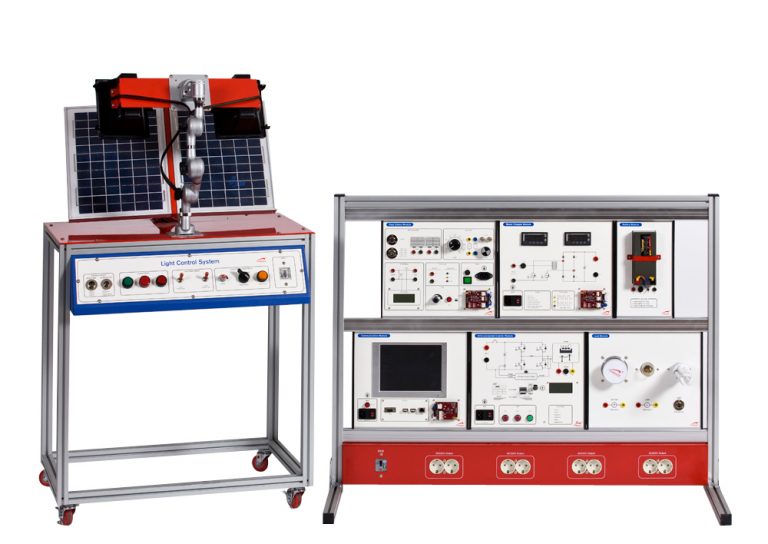 Understand Technology of Solar Panel
Understand Total System Configuration for Photovoltaic Generation
PC Application Program for Generation Monitoring provided
Platform to operate actual Appliance provided
Test Photovoltaic Generation Application using various Load Devices
Green Technology Products by Hanback Electronics Co,.Ltd. are Education Product group developed by recent Industrial trend related with Green Energy and Low Carbon Green Growth.
Green Technology Products understand Generation using Photovoltaic, Wind Power and Fuel Cell, and handle all processes from the basic to application for technology related with the generation method and Power Generation process.
Green Technology Products are systematically composed with devices from those for basic technology experiences to those for applications for taking advanced technology. And this provides the best education environment to all the institutes and subjects which educate the development of IT convergence technology and alternative energy.
HBE-Green-ETS-Solar is a device which we can learn the basic concept of Photovoltaic Generation. So we can understand characteristics of Solar Cell through its connection, and changing the position of Artificial Sun, we can do various tests for Effectiveness and Development of Solar Cell.
HBE-Green-ETS-Solar is designed to understand various applications which can alternate currently used Power with using Photovoltaic through various Loads. And this provides Monitoring program using PC or Embedded system so we can understand the configuration of actual Photovoltaic system, and how to use it.
Composed of technological elements to understand Photovoltaic System
Uses 12W Solar Panels(2 ea) and generates AC to operate Appliance
Tests the properties of Solar Panel Tests Conversion process of generated Energy(Power Generation and Processing)
Tests Energy Effectiveness by the process of Energy Generation and Conversion
Performs Load Characteristic Test using various Loads, and Separate Test by Modules
Tests Various Applications through Rearrangement by function modules and Cable Rewiring
Makes up Industrial PC System for independent Monitoring Test
Provides Monitoring System and PC Application Program using PLC(only Stand-alone System)and USN
HBE-Green-ETS-Solar is composed of modules by function blocks, based on Green Energy Framework, and Stand alone System and Grid connected System. We can do Monitoring test using USN and PLC and test Consumption part through Load Devices.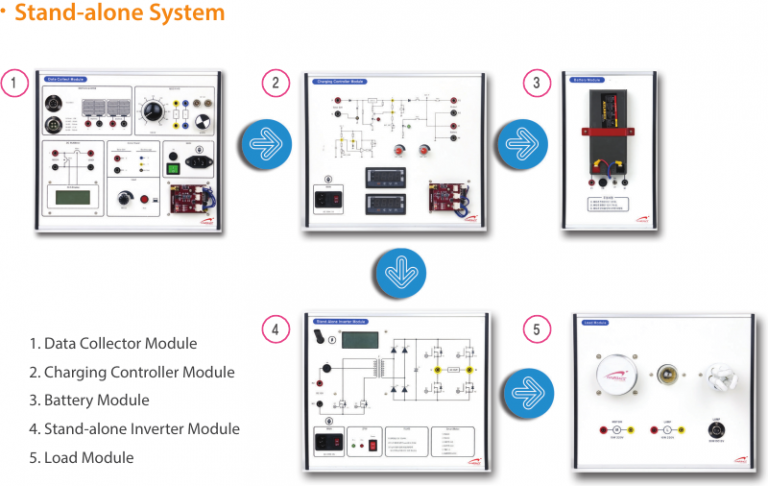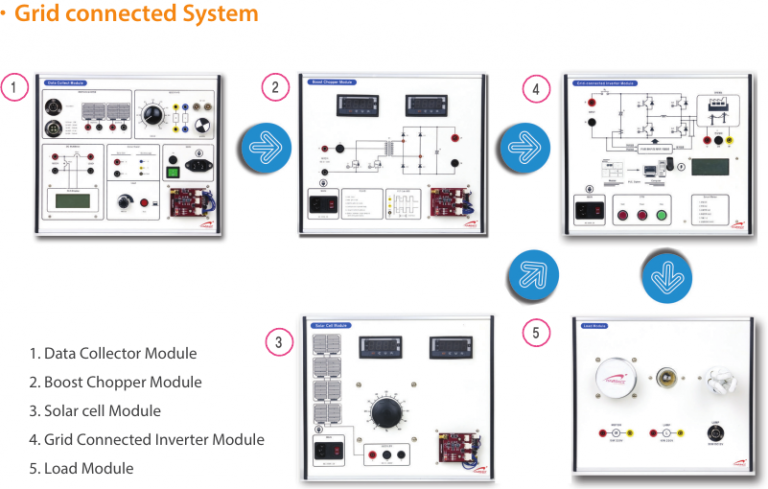 At first to understand Basic principle included in HBE-Green-ETS-Solar, we study basic understanding of Energy, then understand the pros and cons of Alternative Energy. Application includes advanced technologies; Inverter and Converter and Grid Connected. And it has various levels of difficulty in order to understand the basic technology through practice test and the advanced technology through application test.