Ubiquitous Sensor Network System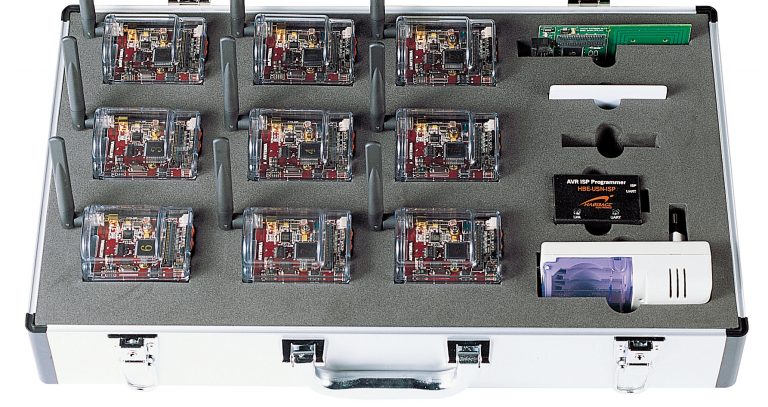 Standard Platform for Ubiquitous Sensor Network Education
RFID reader basically provided for RFID/USN Interworking Test
The latest TinyOS 2.x Porting for Ubiquitous Sensor Network
Separate OS provided by Nano Qplus(ETRI technology transfer)
Porting Sensor Module provided for Various Application Tests of Home Network and u-Healthcare(option)
External Antenna mounted for Effective Ubiquitous Sensor Network Test
Interworking with various Servers of Embedded System and PC
EasyTinyOS(nesC code Automatic Generation Tool) provided
Eclipse based Development Environment(ZigbeX StudioTM) provided
Ubiquitous Sensor Network(USN) is a field competed by all countries of the world to secure National Competitiveness for communication environment which transcends time and space by using Ultra Low Power.
Ubiquitous Sensor Network is being expanded to overall industries such as Intelligent Home Network, Building Management, Environment Monitoring, Disaster Prevention and Healthcare and recently the used range of this is being expanded to the fields for interworking with existing Infras of Electronic Payment, Information Delivery, Voice Communication, P2P and Data Sharing.
Ubiquitous Sensor Network is a technology which is a base of IT convergence technology and Growth Engine, big new things in recent years, and also this is considered to the heart of strategic positioning for major industries of Automobile, Shipbuilding, Construction and Medical Service.
HBE-ZigbeX II executes Porting of the latest TinyOS 2.x, Nano Qplus to HBE-ZigbeX leading the education marketplace of domestic Ubiquitous Sensor Network. Also, HBE-ZigbeX II adds various Educational Themes of Healthcare and Environment Monitoring sensor to improve the Industrial Validity of educational institutions.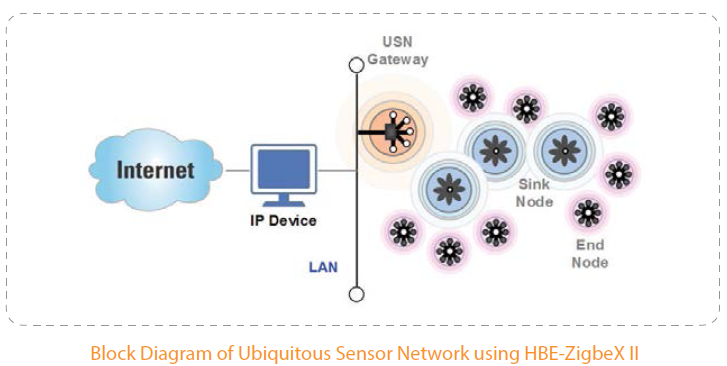 General stable Standard Ubiquitous Sensor Network Platform
– General Purpose ATmega128 MCU used
– Various Sensor Data Storages provided(Flash :512KB)
– Power : under 1.2V Ni-MH 3EA/1.5V 3EA/+5VDC external Power
More stable Real Time Sensor Network through the latest TinyOS 2.x Porting
Nano Qplus 2.3 , the Korean Style Ubiquitous Sensor Network Development Environment
Porting External Antenna mounted for Network of maximum up to 100m
Temperature/Humidity, Light sensor and Infrared sensor and RTC mounted for basic Sensor Network Test
RFID Reader/Tag provided basically for Core Sensor Network Test
Standard Extension Port provided for mounting various Sensor Modules
Sensor Module provided for applications of Intelligent Home Network and u Healthcare(option)
Interworking with various Servers including Serial Interface
Basic Sample Program data and default Source for various applications provided
Professional Education Program supported for the faculty members (Test and Teaching Fellows included)
EasyTinyOS tool provided for easy TinyOS programming of beginners
Eclipse based Development Environment(ZigbeX StudioTM) provided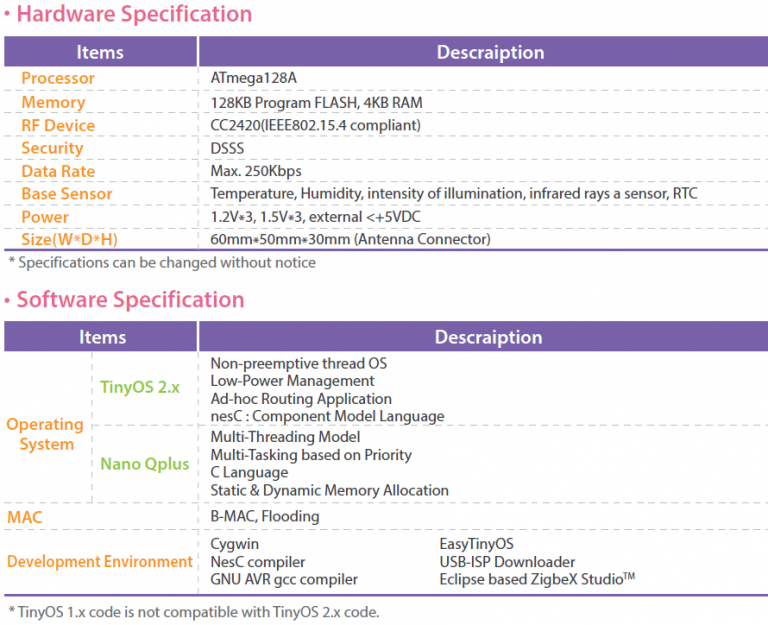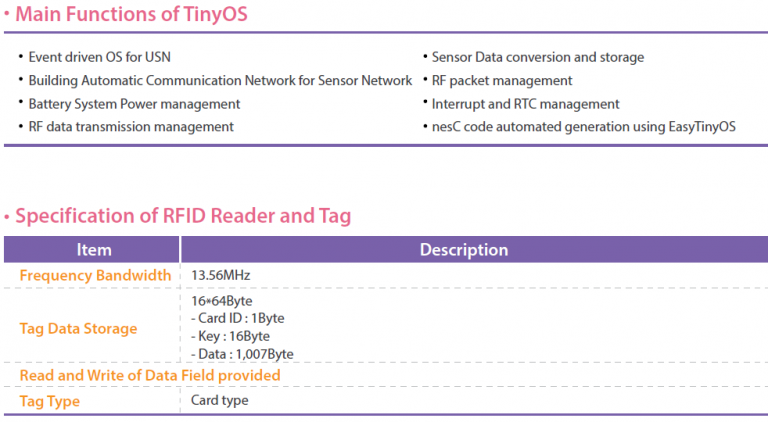 Introduction to ZigbeX StudioTM
To develop TinyOS program operated at the mote for USN , we should install and set the tool chain distributed at TinyOS.net, Cygwin and other tools. This gives us difficulty to precede USN education. ZigbeX StudioTM is a self-developed tool, in which USN development environment is simplified for HBEZigbeX/ HBE-ZigbeX II mote based product users at Hanback Electronics Co.,Ltd..

Characteristics of ZigbeX StudioTM
– Support of Auto Installation Program
ZigbeX StudioTM improves the efficiency to write the program by adding installation simplification of TinyOS tool chain and visualized integrated development environment, and if ZigbeX StudioTM is installed, we do not need to install Development Environment distributed by TinyOS.net separately. Immediately when ZigbeX StudioTM is installed to Host, it is possible to perform the whole processes for TinyOS program development of Project Create, Code Edit, Build, Installation and Message Check in visualized environment like Visual Studio.
-Simultaneous Support of CUI and GUI
When ZigbeX StudioTM has been installed, which supports CUI and GUI all, Shortcut is created for execution on Wallpaper. GUI executes all works in Eclipse, so if ZigbeX StudioTM shortcut is executed, Eclipse is executed, which is corrected for TinyOS program development. CUI provides Cmd for TinyOS for users not used to Linux command, and Cygwin for TinyOS, which is Default Development Environment of TinyOS as Command Line based Development Environment. Cmd for TinyOS can execute the command for TinyOS development as Cygwin for TinyOS on Dos command window.
-GUI based Integrated Development Environment provided
It is possible to perform the whole processes for TinyOS program development of Project Create, Code Edit, Build, Installation and Message Check in visualized environment like Visual Studio.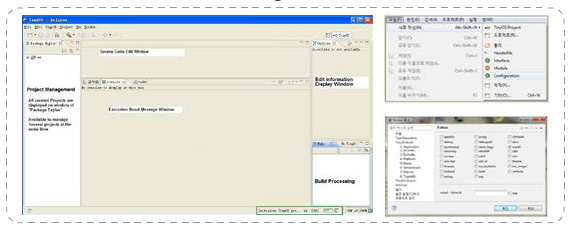 -Special Tool provided for Program Download and Test
-Code Help supported for Code Writing
Code Help supports to complete the identifier defined when writing nesC syntax on Edit window automatically, which searches the name of identifier started with a specific character
and the name included in the path and replaces it to the identifier if selected by a user.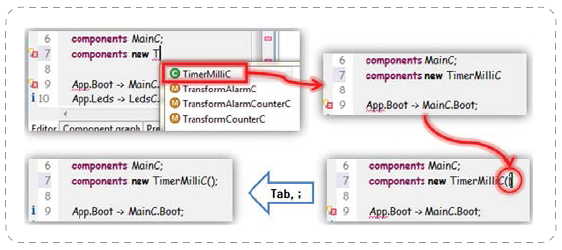 –Component Graph provided for Source Code
Component Graph is one of core functions of TinyOS Plug-in with Code Help and analyzes
the contents when used for configuration and module file in order to display it to the graph.
Module displays the event and module function list implemented and Configuration displays
the connection rule between components visually. And Configuration is so useful to know the
structure for program configuration.

-Visualized Code Analysis
Component Graph of Configuration displays the connection relationship and structure of
components visually and enables to search the substructure. And if combining this with
Outline window which displays Component Information to Tree, this becomes the best
Program Analysis tool.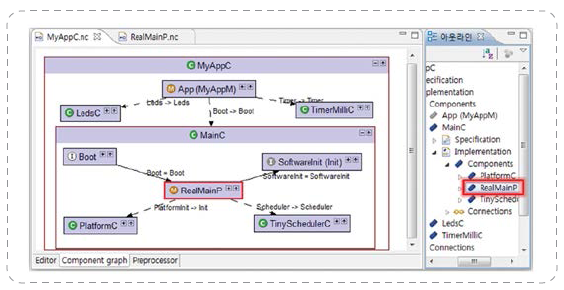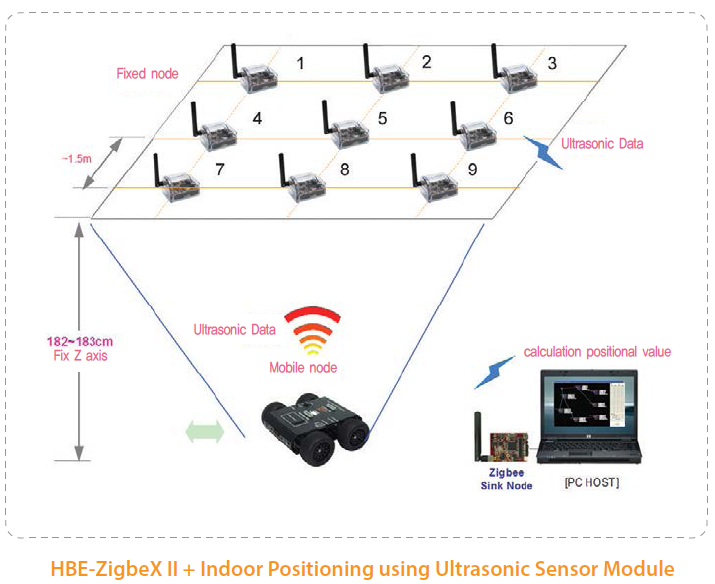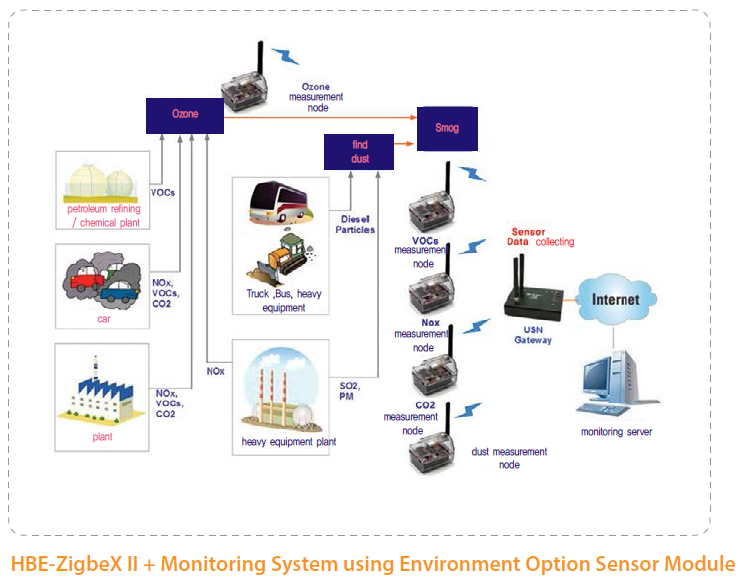 -Ubiquitous Home Network Demonstration Laboratory
ZigbeX II + Ubiquitous Demonstration Laboratory using Home Network related Option Sensor Module(Example of Korea University of Technology and Education).