New Ubiquitous Home Network Test-beds based on Wireless Sensor Networks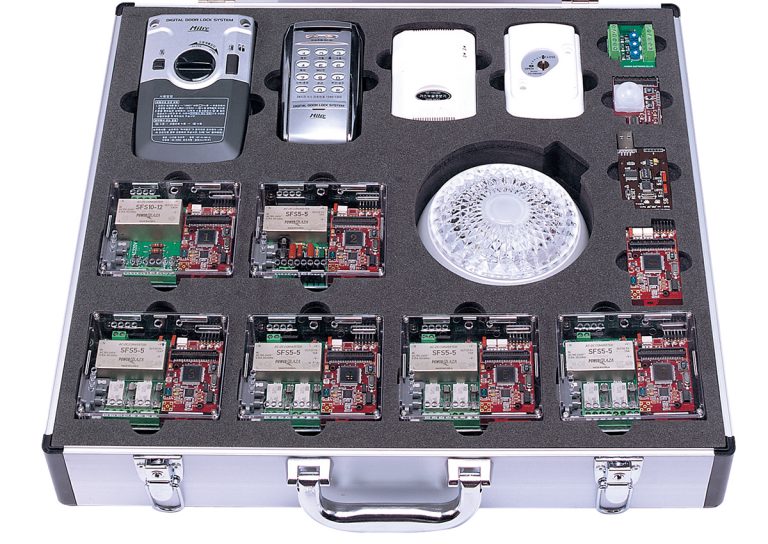 New test-beds for real implementations of ubiquitous home networks based on smart sensors.
Independent modules and smart sensors to support more flexible home network tests.
Package includes real home appliances controlled by the modules and smart sensors of HomeNet.
Its examples cover from a theoretical education of TinyOS to experiments about real controlling home appliances.
Target of educational departments : Electronics, Electrical Communication, Computer Science, Mechanical, and Civil, Chemical Engineering, Environmental and Earth Science.
The ubiquitous computing in the home area is distributed at various scales throughout our daily lives. Moreover, development of ubiquitous home services and their implementations have important commercial values as well. Therefore, various projects and researches have been carried out for the ubiquitous home network applications.
Following this trend, Hanback Electronics developed a new ubiquitous home network test-bed, named as Ubi-HomeNet, based on wireless smart sensors (HBE-ZigbeX).
HomeNet makes smart sensors can work as a collector perceived sensing information in home areas as well as a controller of consumer home devices. Some actuator type sensors are deployed near the consumer home devices and are connected with their electronic switch by using several relay module developed by us. This collaboration among smart sensors and home appliances has led to a new trend to take more active ubiquitous home networks beyond the traditional sensor networks. By using our testbed, user can easily learn and evaluate the ubiquitous home network areas. Its text book covers not only a theoretical education on NesC of TinyOS but also experiments related with controlling home appliances.
HBE-ZigbeX Mote-Using Control
– Use general-purpose ATmega128 CPU
– Stable 8bit High Performance Platform
– Provide a sensor data storage (SDRAM, FLASH-512KB)
– Configure a real-time sensor network with TinyOS porting
– Nano Qplus porting
– Construct an autonomous communication network
– Support Zigbee PHY
– Configure PCB pattern antenna with communication available up to 120m
Design modularization to make it easy to construct actual environments
Loaded with AC-DC Converter and drive a module by using a commercial power (100~220V)
Provide three main boards
– Provide a basic board (AC-Input Board) loaded with relay (2) for commercial
power control
– Provide a dedicated board (Dimmer) for light brightness control
– Provide a dedicated board (MC Board) for motor driving
Provide a control electronic door lock, gas breaker, detector and light
Support example program through abundant experiments on development
Provide environment-setting tools for development
Provide standard teaching program and user manual Support user training based on abundant experiences