Green Home Test Platform applying Photovoltaic Power Generation and USN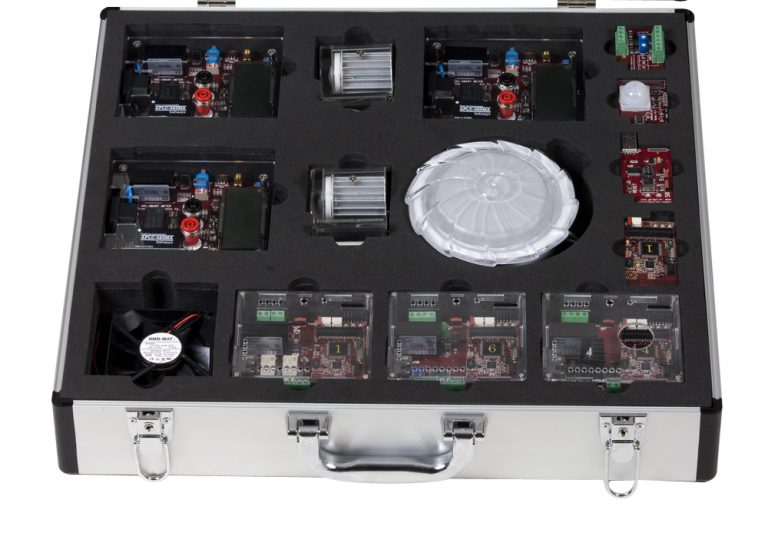 Makes Up Generation System using Photovoltaic in Green Energies
Controls Appliance Control by configuration of Solar Panel with 60W
Tests Power Generation and Monitoring by using Smart meter
Applies LED lamp for real Energy reduction Test
Understands Green-Home Network using Photovoltaic Power Generation
Provides various Test Samples and API for writing PC Application Program

HBE-Green-HomeNET uses Stand-alone Generation System using Photovoltaic as Power Source of Home Network for the test of actual Power Generation and Consumption process.
This is composed by developing Smart meter which expresses and shows Power in the process of Energy Generation and Consumptions. And by applying LED bulb to the product, it is possible to built actual Green-Home System. Also, this provides various actuators controlled by USN in order to educate actual Stand-alone Photovoltaic System.
HBE-Green-HomeNET provides various test contents of Energy Reduction from the beginner's course to applied/intensified course. We can correct the contents of Green-Home Network from the test using nesC auto generated tool(EasyTinyOS) to the test using ZigbeX Studio, Eclipse based developing environment tool, and write new application program.
HBE-Green-HomeNET is modularized and can extend various option sensor modules., so it is effective to Project class, Creative Engineering Design and Capstone Design subject because this can.
Power Generation Test using Photovoltaic
– Understands Features of Solar Cell
– Tests Stand-alone Photovoltaic System Design
– Tests Energy Generation and Consumption Monitoring with Smart meter
– Tests Energy Generation and Consumption Monitoring with Ubiquitous Sensor Network(USN)
Green-Home Network Test using USN
– Available of USN Programming with nesC code Generating Device(EasyTinyOS)
– Available of USN Programming with ZigbeX Studio, Eclipse based Developing Environment Method
– Tests Appliance Control and Green-Home Network Build with Energy reduction Technology
– Provides various Test Samples and API for writing PC Application Program
HBE-Green-HomeNET is composed of Photovoltaic System including Battery, Inverter,
Charging Controller, and Green-Home Control Modules. With HBE-Green-HomeNET, we can
do various tests of Energy generation, consumption and reduction based on Ubiquitous
Sensor Network(USN) , the heart of Green Energy technology.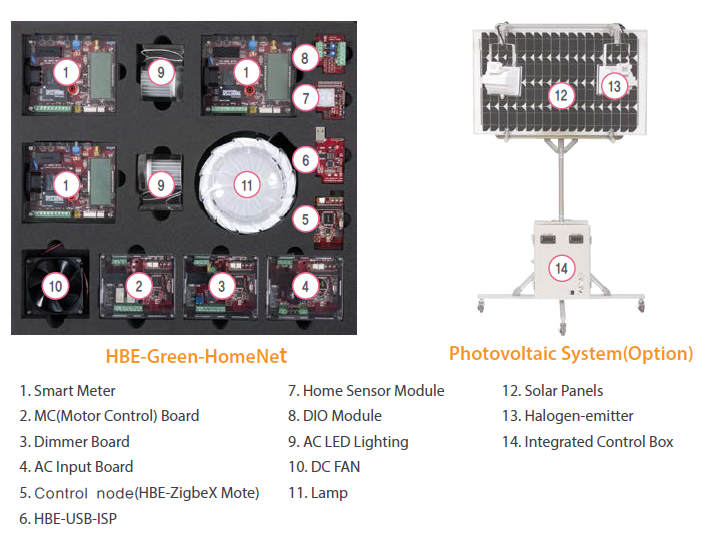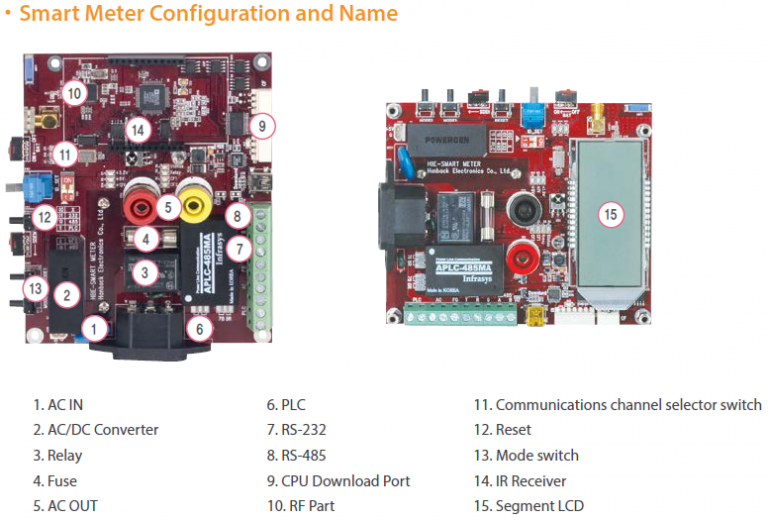 HBE-Green-HomeNET Software
HBE-Green-HomeNET Software is composed of Sensor node program and PC application
program for the monitor.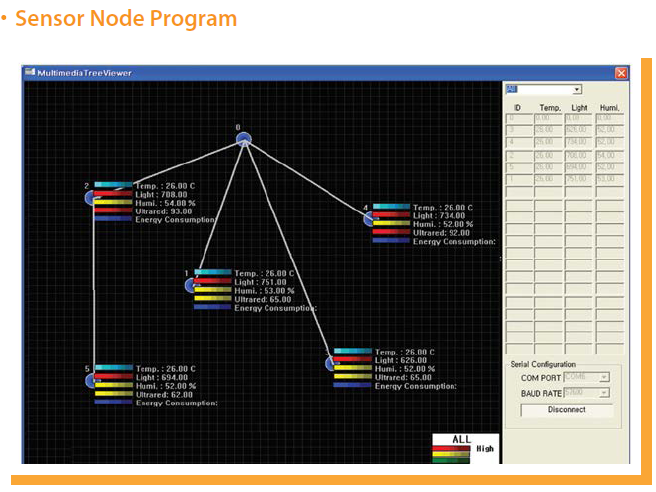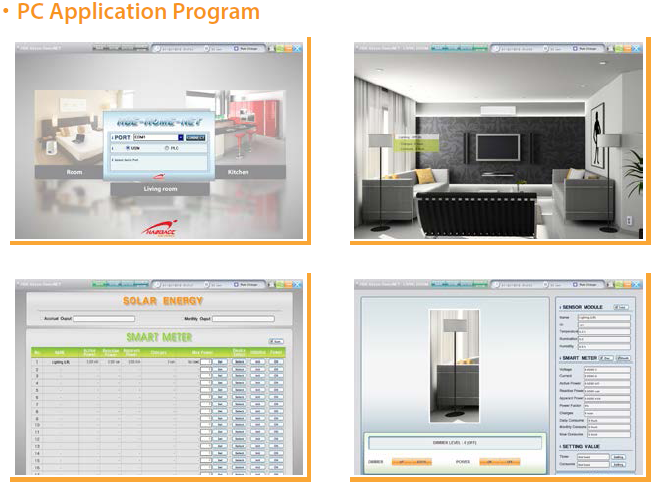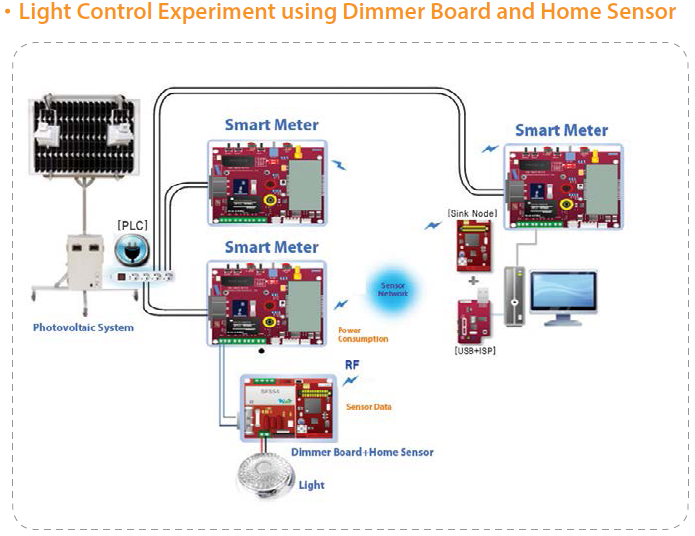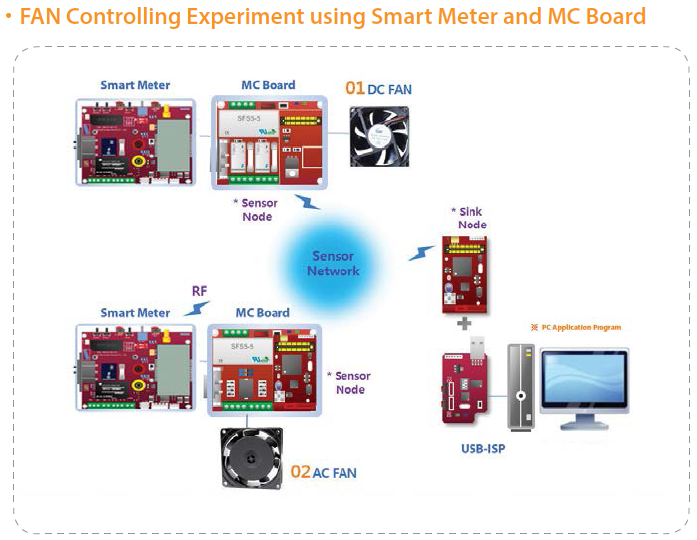 HBE-Green-HomeNET can build education environment for Green-Home Network System
in Energy Reduction Technology at home using Sensors, Power Generation Process using
Solar Cell, and Monitoring using USN and also do USN test based on TinyOS and Eclips. Especially EasyTinyOS and ZigbeX Studio tools are self-developed software and we can study
efficiently TinyOS/nesC, the heart of Sensor Network Education.
HBE-Green-HomeNet network system using the Green Home
1. Smart Grid?
2. USN and Smart Meter
3. Configuration of system and setting of development environment
4. Sensor practice I
5. Sensor practice II
6. Communication practice
7. Controlling relay
8. Controlling brightness of lamps
9. Saving power for light with Illuminance sensor
10. Saving power with PIR sensor
11. Utilizing cumulative amount of use
12. Setting timer
13. Controlling electric energy
14. Controlling power with electricity rate
15. Automatic meter reading
ZigbeX StudioTM
To develop TinyOS program operated in the mote for USN, we should install and set up
Tool Chain, Cygwin and other tools from TinyOS.net. This makes USN education tough.
ZigbeX Studio is self-developed tool by Hanback Electronics Co.,Ltd. , which simplifies USN
developing environment for ZigbeX/ZigbeX II users.