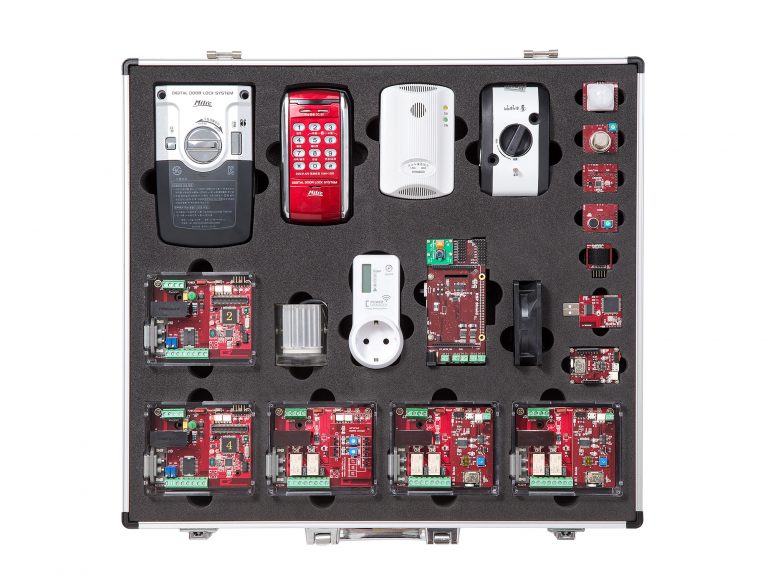 ARM based Gateway Service
Connected with smartphone or tablet PC
Communications of Zigbee, Bluetooth and Wi-Fi service
BLE based sensor module service
Arduino based smart sensor test
Peripheral device service for study, connected with GPIO/Interrupt/ADC of processor directly
Android, Linux based open API service
IoT indicates Integrated Platform able to interlock various Sensors and Actuators, based on ICT convergence Home Network which can generate Information by itself by integrating Smart Sensor and domestic facilities with Wire/Wireless Communication Network and deliver it to other object and a person in order to decide a certain of Automation.
Able to be interlocked with facilities used at actual home appliances such as Door Lock, Gas Circuit Breaker, Gas Detector, Fan, and electronic appliances using commercial power of 220V, providing various experiences by modularization to build it to real environment.
Able to test it from the beginning step by step, providing 5 basic sensors and Bluetooth(BLE) module additionally available at IoT test.
Able to test Bluetooth(BLE), Zigbee and Wi-Fi used much for IoT wireless communication method in one equipment .
Interlocked with sensors and actuators in order to test Smart Home technology deciding and operating for itself, and connected with Internet in order to implement Remote Control and Monitoring.
Able to test Actuator Control and Sensor Information Acquisition to get basic technology of IoT by modules, providing Unit Module Test function using Firmware.
Able to test Actuator Control and Sensor Information Acquisition using Smart Device, providing a program connected with smart devices.
Able to build Smart Home System by using sensor information monitoring and remote access control function through IoT Gateway.
Able to build IoT Smart Agriculture Management System.
Able to build Smart Unmanned Surveillance System.
Able to build IoT Smart Forest Fire Surveillance and Environment Monitoring System.
Able to monitor energy that Smart Home uses through Power Manager.
Able to implement Smart Device Program communicating with Firmware of each node in wireless condition, possible to use Security Algorithm for security function, a conversation topic, at IoT.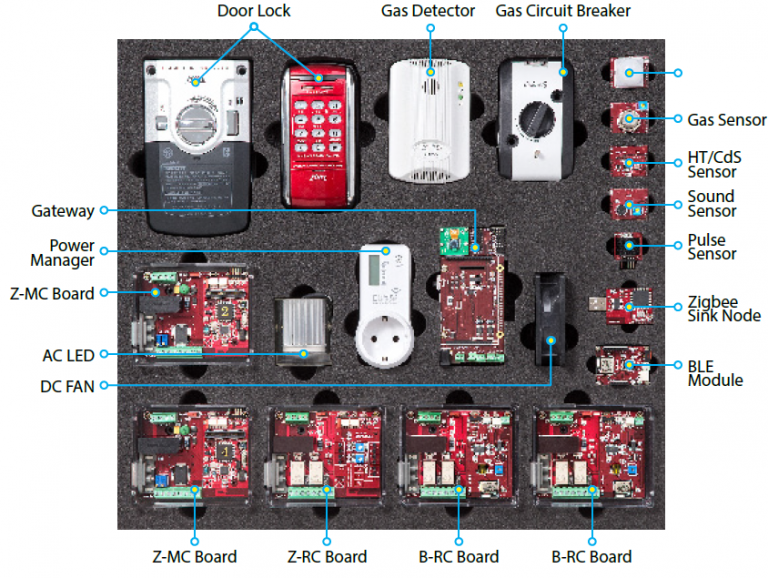 Basic & Application Test of IoT
Introduction to IoT
Configuration of IoT technology
Standardization and Security of IoT
Configuration and Application of Smart Sensor Technology
Application Test of Smart Sensor(1)
Application Test of Smart Sensor(2)
Application Test of Smart Sensor(3)
Application Test of Smart Sensor(4)
Application Test of IoT Control(1)
Application Test of IoT Control(2)
Application Test of IoT Control(3)
Application Test of IoT Control(4)
Test of IoT Control Application Program(1)
Test of IoT Control Application Program(2)
Test of Power Consumption Measurement Application Program
Test of IoT Firmware & Application Programming
Introduction to IoT
Configuration of IoT technology
Standardization and Security of IoT
Configuration and Application of Smart Sensor Technology
Application Test of Sensor and Actuator(1)
Application Test of Sensor and Actuator(2)
Application Test of Sensor and Actuator(3)
Application Test of Sensor and Actuator(4)
Communication Program Test(1)
Communication Program Test(2)
Test of IoT Service Application Program(1)
Test of IoT Service Application Program(2)
Test of IoT Service Application Program(3)
Test of IoT Service Application Program(4)
Test of Power Consumption Measurement Application Program