For the experiments of Smart Device and IoT Embedded Convergent Platform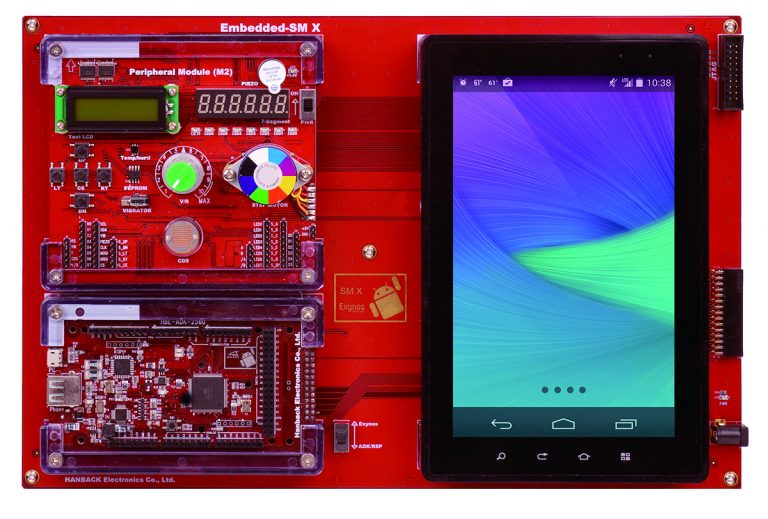 Samsung Exynos 8890 Application Processor based Embedded Device
Octa Core CPU(2.3GHz Quad Custom core + 1.6GHz Cortex-A53 Quad) and LPDDR4 4GByte Memory
Wide Viewing Angle and 7" 800 x 1280 IPS display of high Brightness and Contrast Range included
Supports of USB 3.0 and Bluetooth V4.0, Wi-Fi 802.11 b/g/n
Supports of Digital Audio, HDMI V1.4 based Digital Video 
Peripheral Device for Embedded Research directly connected with Processor GPIO/Interrupt/ADC included
IoT gateways and servers can be built through sensors and actuators
Embedded SM X is the best Embedded Equipment for Experiment supporting LPDDR3 memory, Mali-T880 MP10 GPU, USB 3.0 and HDMI 1.4a, developed to cultivate high value added Manpower in Embedded/Android Platform and to study Samsung Exynos 8890 based Heterogeneous Octa Core Platform.
Providing Knowledge and Experience to test Smart Device and develop the Next Smart Convergence Service in the latest 64bit Octa Core Processor by the best Embedded Module and Embedded Peripheral Device Module for research directly controlled by Processor.
Optimum Performance and Reliability by installing Heterogeneous Octa Core Processor, Exynos 8890 to Embedded Module. Especially, providing 15% improved Performance by HMP(Heterogeneous Multi-Processing) effect than existing Exynos 5422 and the high performance Memory, LPDDR4 4Gbyte RAM and GPU, Mali- T880 MP10 not to make Performance delayed.
Providing Brightness(450nits) and Color Sense(800:1 contrast range) enough to show User Experience(UX) by installing 7" LG Display of 800×1280 pixel resolution preventing Diffused Reflection and supporting Wide Viewing Angle 170°/170° to up/down and left/right.
It provides an integrated development environment for creating and installing projects in Windows environment without a separate Linux host environment.
Providing the Research/Development Environment of Peripheral Device the same as that of the latest Smart Phone and Smart TV through Peripheral Device for research directly connected with GPIO/Interrupt and ADC Interface of Processor in order to design and study Embedded Peripheral Device.
To provide creative fusion application experience such as capstone design, we provide training content that can be used as a smart terminal by connecting the electronic device control module(HBE-ADK-2560),
health care / environmental monitoring sensor(HBE-Healthcare/Eco Sensor Kit) and intelligent robotequipment(HBE-SmartCAR) by wired/wireless connection.
You can directly control various sensors and actuators through the Exynos BD shield board, and you can configure and experience various IoT projects in conjunction with the open source hardware platform
(HBE-ADK-2560, Raspberry Pi).
Creative Engineering Application Options
Providing intelligent technology and contents that communicate information between objects and people that connect all objects based on the Internet.
Provides a solution that inter-operates with Open Source Hardware based cameras, sensors, and actuators.
Provides Android and Linux-based Open API to experiment with various electronic devices and configure a lab.